About Us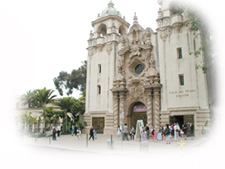 Our mission is to support and promote a premiere dance arts program and an appreciation of the arts, in cooperation with the San Diego Park and Recreation Department Dance Arts Program.
Since the 1980's, the San Diego Civic Dance Association, a non-profit, public benefit corporation, has provided volunteer assistance to the Civic Dance Arts program. The SDCDA helps teachers update and perfect their skills, by sponsoring dance clinics and workshops. It offers student scholarships, organizes shoe fairs, and works to allow performances on a grander scale by providing, among other things such as stage equipment, and costume design and fabrication.
One recent and ambitious undertaking has been to begin replacing the old, damaged, and unsafe flooring in the Casa del Prado dance studios in Balboa Park. SDCDA pledged, and continues to raise $40,000 needed to install sprung, maple hardwood flooring in two of the studios, replacing the inadequate linoleum. The San Diego Park and Recreation Dept. granted matching funds to help accomplish this necessary repair. This new flooring provides the only equipment necessary to ensure many decades of safe, healthy dance for at least five dance groups in our community that use these studios daily.
This fine group of SDCDA volunteers, which spends thousands of hours for the benefit of the dance program, is well recognized, including being honored in 1998 and 2002 with the city's Be a Friend Award for outstanding work in fulfilling the recreational needs of the community. Also in 1999 and 2000, two SDCDA members received Volunteer of the Year Awards from the City of San Diego, and in 2001, one of the program's student volunteers was awarded the Star Pal Youth Award.

In 1983, in response to an overwhelming demand for recreational activities in the arts, an advanced studies program was initiated, resulting in the formation of the San Diego Civic Dance Company, a performing group of forty to fifty dancers admitted by audition. The Company's annual concert, Dance Collage, is presented at the Casa del Prado Theatre in Balboa Park, three weeks in January-February. (During the month of June, all dancers enrolled in the Civic Dance Arts Program can perform in one of twelve recital concerts produced at the theatre.) In addition, Company dancers accommodate community service and city organizations' requests for entertainment and concert performances, when their calendar permits. Some of these performances include: SummerQuest AIDS Benefit , Disneyland, Bravo at the Westgate, the San Diego County Fair, and December Nights.
With a current enrollment of 2,600 students, the Civic Dance Arts Program has been the crown jewel of San Diego's cultural, and recreational offerings continuously for over fifty years. Thousands of children look upon their dance experiences with this city program as a never-to-be-forgotten joy of childhood. As adults, they enroll their own children in the program, and often continue to participate in the extensive adult classes offered, as indicated by some students well into their 70's. Many former students have not strayed far from the arts for career choices, but nearly all feel their lives have been enormously enriched by participation in this activity called dance.

For event/show information, ticket sales, and volunteer and donation opportunities, you may reach us at:

San Diego Civic Dance Association (SDCDA):
2125 Park Blvd., San Diego, CA 92101
Dance Office: (619) 235-5255
Box Office: (619) 796-3657

Your donations provide critical funds for student merit scholarships, free dance classes, teacher development, production underwriting, costume assistance and so much more! Please support Civic Dance with your tax-deductible donation.
For class schedules, summer dance camp and event information you may also contact our Dance Specialist at:
Civic Dance Arts Office

(619) 235-5255